Today was my first official day of summer break. Yippee!!
To kick off my summer, I'm linking up with Halle at
This week's them is Morning Must Haves.
1. One thing I must have, whether it is summer or winter, is my coffee.
I have a cup every morning.
If I want to treat myself, I go to Starbucks and get an
iced café Americano.
2. I also need my bagel or English muffin.
I actually wake up in the morning craving these.
The problem is I'm very picky and only want certain brands,
otherwise it just doesn't cut it.
The brands were chosen because they don't have much extra "stuff" in them.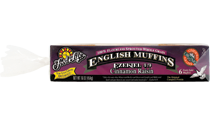 3. My final must-have is Ocean Salt Cleanser from Lush.
I love how it makes my skin feel and the smell is awesome.
So there are is my list.
Does your list change in the summer when school is out?