I don't know about you, but I'm always trying to figure out the best way to meet the needs of all my students. This year I have a wide range of math abilities in my room. Helping each student reach their full potential in math has been my goal all year. Last year I started having math rotations to meet my needs. Here was my hour long math schedule:
10 minutes: review/math timed test
20 minutes: mini-lesson
30 minutes: math rotations
My class was divided into three ability groups and participated in three rotations - teacher/paper/pencil, manipulatives and games. My inspiration for this format was Beth Newingham. If you get a chance, check out her site. She has some awesome ideas!
As I continued the rotations this year, I ran into a few problems.
1. I didn't have enough time with each group. I helped students as they worked on their paper/pencil sheet, but I wasn't able to have small group lessons.
2. Many times I was rushing through the last rotation. My high acheivers worked on paper/pencil during this rotation and I always wanted to give them something more challenging. By the time I explained it to them, there was only about five minutes left.
3. Math was starting to take over an hour each day.
4. I was having a hard time coming up with new games as the kids were getting bored.
Just as I was starting to question the rotations, I received a blog update from
3rd Grade Thoughts
explaining her math rotations. I decided to rearrange a few things and try this new format. Check out this great blog that has some very helpful information about the rotations.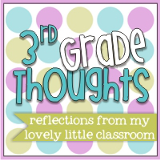 Now my math schedule is:
10 minutes: review/timed tests
50 minutes: rotations
My new rotations are:
Meet with teacher: I am able to have teach the lesson of the day in a small group setting. It gives me a better idea of who understands and who needs some more support.
Paper/Pencil: The students complete some practice problems related to our lesson. Then comes the part I love! My high acheivers start with paper/pencil and meet with me last. I give them their assignment when they meet with me and they finish it the next day during their first rotation.
Games/Manipulatives: Each day I will let the students know if there is a game or they complete a manipulative activity. Some manipulatives I have used in the past are tangrams, pentominoes and Logic Links.
I've been using these new rotations for a couple of days. I feel I am getting more quality time with my students and meeting their needs.
I really would love to hear about how you teach math. Are you using rotations? If not, what makes your system work?
Have a great evening!!